Today's prompt for
#LoveBlog
is fictional love. I've always enjoyed a good love story, so I thought I'd bring you a few of my favorites today.
I wish I could say I have criteria for what made this list, but I really don't. I simply went with what I love (isn't that the point of Love Blog after all?) and which stories always seem to come to mind. You'll even find that I did a mix of books and movies because they both contain love stories that are worth mentioning.
Pride and Prejudice
This one had to be on my list since it's my favorite book. I can't even tell you how many times I've read this book since high school. There's something special about the relationship that grows between Elizabeth Bennett and Mr. Darcy over the course of this book. I love how it's all based on getting to know a person for who they are rather than for their social standing.
Gone with the Wind
While this book is far from historically accurate, it is a nice read for a love story. It's a long one though - so don't expect to sit down and finish it quickly. I first read this one in high school when I picked it off of a massive list of books we could read. I've read it a couple more times since then but it's always a huge undertaking due to its size. If you can suspend your knowledge of history for a while, this is one that I find rather enjoyable.
Leap Year
This is one chick flick that the husband and I can agree on. In fact, it's one of those movies that we can put in and know that the other one isn't going to protest. I've never really thought about it but this movie has some similarities to
Pride and Prejudice
in that the characters grow and start to like each other once they look past their first assumptions. It really is a great one with some fun quotes that we like to bring up from time to time.
50 First Dates
There are scenes in this movie that make me want to cry. I don't think a love can be more epic than this one. The lengths that Henry goes to in order to prove his love are pretty astronomical. I'm not going to say much else than that though because I don't want to ruin the movie for you. I am going to say that I highly recommend checking this one out!
Ever After
Ah...the classic Cinderella story that has been told time and time again in many forms and variations. I'm not entirely sure what makes this one so good, but it is by far my favorite version of the Cinderella story. It's another movie that contains cry worthy moments because the emotions expressed at times are so real.
What movies and books would make your epic love story list? We'd love to hear all about them in the comments below!
Have you checked out #LoveBlog yet? There's a new chance to link up every weekday in February!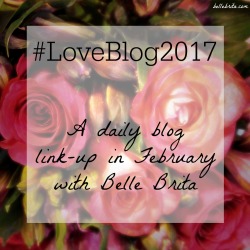 Don't forget to sign up for our
weekly conversation starters
!