My husband and I have been together (dating or married) for four Valentine's Days. Of those four heart filled days, we have only spent one together - our very first one. This year (our fifth Valentine's Day), we should finally be together again for the holiday but I can guarantee that it's the furthest thing from our minds right now. (We almost forgot to celebrate our 2nd wedding anniversary so you can probably guess where Valentine's falls on the importance scale this year.) With a little one due on February 13, there will be plenty of love this month but I doubt it will be in the form of chocolates and flowers.
Whether or not we celebrate Valentine's Day this year will depend on many factors, including the arrival of our baby boy and the many family members that are planning to visit him. I thought it would be nice to have a few simple ideas on the back burner in case we (or maybe you) need them. After all, you never know what life is going to throw at you.
Exchange Love Letters
This idea could be done in lieu of a date night or in addition to a date night. It does take a little advance notice but not a lot. Pick out some nice stationary or even blank paper that you can use for this activity. Then, pull out the fancy pens, markers, and whatever else you feel is appropriate for the occasion. The last step is to actually write love letters to each other. This can be done while you're sitting in the same room or you can do it on your own time and exchange them for Valentine's Day. Either way, you'll end up with a keepsake to treasure forever.
Cook Dinner Together
The restaurants are bound to be crowded with people on their Valentine's Day dates. In fact, some of them may be so crowded that reservations or a wait are required. Why not avoid the craziness of an overcrowded restaurant and have Valentine's Day at home? Find a recipe and spend a little time in the kitchen cooking it together.
Watch a Movie Together
This one may sound simple, but it's something that's easy to pull off even with chaos around. In fact, our first Valentine's Day date was as simple as a quick dinner followed by a movie. Pick out a new movie together - either in theaters, at Redbox, or on your streaming service - and enjoy it together. I recommend picking out a new movie so that neither one of you grows bored. I find our attention wanders easily when we watch repeat movies.
Unplug for the Evening
How often do you find that your time is spent on your phone, computer, or other electronic device? Make a pack and unplug for Valentine's Day. Leave your phones in the other room and spend some time together - maybe playing a board game or cuddling on the couch. Unplugging will allow you to focus on each other for the evening.
Spend Time Together
Sometimes it's not about what you're doing together - it's simply about spending time together. If you can't figure out how to spend the holiday, then stop trying. Simply agree to spend some time together and see where it leads you. Sometimes having no plan can lead to the greatest memories.
How will you be spending Valentine's Day? We'd love to hear about it in the comments below!
We're linking up with Belle Brita for #LoveBlog this month!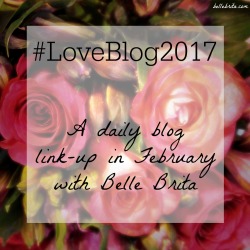 Don't forget to sign up for our
weekly conversation starters
! They'll help you get the conversation going this Valentine's Day!