Today's topic for
#LoveBlog
is "loss." This one was a difficult topic because I've had a lot of loss and goodbyes in my lifetime - especially since I've been around the military since I was a baby. I decided to focus on the most recent loss that I experienced, which has been a hard loss due to distance.
If you follow us on Instagram, then you'll know that we are both dog people. In fact, we couldn't wait to adopt a dog after moving to Michigan and buying a house. It was high on our priority list after living two years without one. You can read more on that story here.
Little did we know at the time that one the my dog would be moving to Michigan to join us. As excited as we were to have her finally join our family, it was a bittersweet move because of the events surrounding it. In fact, I'm going to try to keep this story short to keep the tears from flowing - pregnancy hormones make them really hard to control after all.
It was the moving truck day - a day that's supposed to be exciting and filled with happy dances because your stuff has finally arrived. After two months without everything, you would expect it to be a joyous occasion. Instead, I spent most of the day wondering how a vet appointment for the family dog, Kandy, was going. She had lost control over her back legs over the weekend and my parents took her to the vet for examining.
The movers had just unloaded the last box off the truck (we had way too many boxes but that's a story for another time) when my mom called with the update. Kandy wasn't doing well and had a degenerative condition that would only get worse. It was a matter of time and tough decisions were imminent. I honestly can't even remember the name of the condition right now because what it was didn't matter as much as what it was causing.
This was incredibly hard news to hear from 900 miles away. The news was even harder later in the week when my parents had to make the tough decision. They had to choose between prolonging her life and watching her suffer or putting her to sleep. We believe quality of life is important and therefore the tough decision was made and I realized I wouldn't get to say goodbye to a furry friend who had been a huge part of my life since high school. Military life isn't always pretty and this was one of those instances.
My parents were due to come up and visit us a few weeks later. It was decided that they would be bringing Ella (my dog) and leaving her with us. She was left in Charleston when I moved to California because she was close to Kandy and we didn't know what my schedule would be in California. It was a tough decision for everyone (my parents had grown rather close to Ella) but it was decided to be the best decision for her. She would have a new furry companion (the hyper Mr. Gibbs) and a big yard to run around in up here. She would also be back with her mommy and hopefully a good role model for Mr. Gibbs.
Although the transition from South Carolina to Michigan was a bit challenging with Ella, it was one that worked out well in the end. She started out growling at Mr. Gibbs anytime he would cross her path and now she lets him lay right with her. They've grown to like each other quite a bit since October. She's also helped him calm down and he no longer suffers from separation anxiety when we leave the house.
I was going to include five reasons to adopt a shelter dog in this post but it's already gotten longer than expected. I'll save that for a future post. For now, I'll simply say that dogs have a way of touching us forever. They really do leave pawprints on our hearts.
Have you checked out the #LoveBlog link up? We're linking up all month!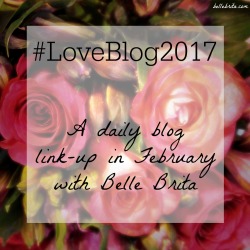 Don't forget to sign up for our
weekly conversation starters
! They'll help you learn something new about your friends and family!